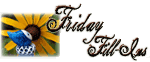 1. You know you're old when you complain more than celebrate.

2. My heart is divided between watching the Olympics and going to bed.

3. SLEEP is what I need RIGHT NOW!

4. I have felt the wonder of friendship, I have known the depths of caring for and being cared for.

5. Gah, won't these people dance?

6. Smile & laugh as soon as you can!

7. And as for the weekend, tonight I'm looking forward to watching the opening ceremony of the Olympics , tomorrow my plans include driving to Knoxvillie and Sunday, I want to scrapbook and visit with Paula!